Oct. 2, 2018 -- It's no secret that Silicon Valley is a liberal enclave where conservatives are not welcome. Tennesseans got to see that firsthand when Twitter banned Republican Marsha Blackburn's pro-life ad (only for Twitter to recant after public backlash.)
But the Big Tech elites have shown their true colors once again, with a senior Google employee exposed for calling Blackburn a "terrorist" and "violent thug."
As Breitbart reports:
A senior software engineer at Google with responsibility for a key feature of Google's search engine labeled Tennessee Senate candidate Rep. Marsha Blackburn (R-TN) a "violent thug" and a "terrorist," who Google shouldn't "negotiate" with, according to internal emails obtained by Breitbart News. The employee also defended the censorship of her campaign ads on social media.
The comments took place in an internal email discussion that began on June 19 this year. The topic of discussion was Rep. Blackburn's Fox News op-ed of the same month, which urged Silicon Valley companies to address bias against conservatives on their platforms. Blackburn, who has herself been the target of social media censorship, has been a vocal critic of tech giants like Google, Facebook, and Twitter during her time in Congress.
The op-ed was not well received within the corridors of Silicon Valley power. One Google employee, a site reliability engineer, called Blackburn's piece "hilarious" and said Republicans are becoming "tribalists focused on stirring up outrage to maintain power."
Blake Lemoine, a senior software engineer at Google, was harsher in his comments. Saying the public is being "lied to" by Blackburn, he went on to accuse the Tennessee representative of "causing the deaths of people she claimed to protect" — something he attributed to her work on the anti-trafficking bills FOSTA and SESTA.
"We certainly shouldn't acquiesce to the theatrical demands of a legislator who makes political hay by intentionally reducing the safety of the people who she claims to protect," said Lemoine. "I'm not big on negotiation with terrorists."
When another Google employee objected to his use of the word "terrorist," Lemoine responded that he'd be "willing to go with 'thug' as a compromise."
"Would you be more okay with characterizing it as not being big on acceding to the demands of violent thugs?" asked Lemoine.
"This is a woman who passed a bill that killed people and is trying to use her passage of that bill to intimidate people. It's clear to me that "do what I say or I'll pass more bills like this one" is the implicit message."
Lemoine is named in this story because he occupies a key position in the company's influential search team, as a technical lead on Google's search feed, formerly known as Google Now. The Google feed's most distinctive feature is that it sends information to users proactively, using personal data to predict what information users want before they search for it.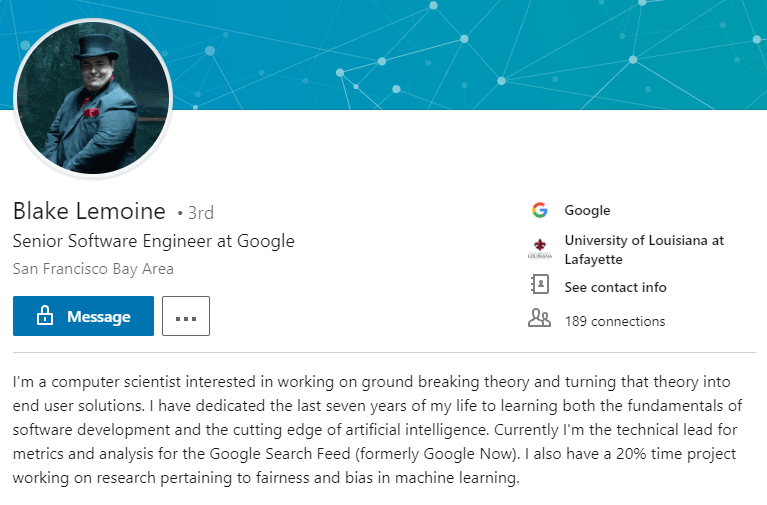 According to Lemoine's LinkedIn, he also works on "research pertaining to fairness and bias in machine learning," making his own biased comments particularly relevant.
Lemoine also indicated that he supports censorship on social media: he defended Twitter's decision to temporarily censor one of Rep. Blackburn's pro-life campaign ads on the platform, arguing that the takedown was not, in fact, censorship.
"Taking down libel is not censorship," said Lemoine.
He went on to say "I think that believing that Twitter too it down because it was a lie is more reasonable than believing they took it down because she was a Republican. Especially considering how the legislation that she is touting in her article was sold through lies that she told."
"In summary: she's a lying liar who lies and Twitter treats her like one" ...
Marsha Blackburn's campaign spokesman, Abbi Sigler, provided the following statement: "These emails are despicable. Marsha Blackburn is a mother, a grandmother, a friend, a dedicated public servant, a pro-life champion, an ally for veterans, and an advocate for lowering our taxes and cutting regulation. To call her a terrorist is offensive and degrading. These emails are indicative of the bias conservative women in the political arena face every day. Liberals do not want them to have a voice in the public arena, and too many social media employees carry their bias to work with them." 
***
Read more at Breitbart.
Do you like this post?